Marketing automation en (Adwords) campagnes


Marketing automation en Adwords of social media campagnes zijn de perfecte combinatie.
Om het maximale uit PPC, social of andere campagnes te halen is weten tegen wie je praat van het grootste belang. Hoe beter de geleverde content bij de ontvanger past, hoe groter de kans op het doorklikken en uiteindelijk op de conversie. Binnen de hele klantreis moet de communicatie consistent en eenduidig zijn. Wie is je bezoeker? Wie is je buyer persona? Om het maximale uit je campagne te halen is het belangrijk om te weten wie je aanspreekt. Om de juiste content via het juiste kanaal aan de juiste persoon te leveren gebruiken we marketing automation software.
Waarom is een buyer persona zo belangrijk?
Simpel. Omdat het daarmee duidelijk wordt tegen wie je praat. Verschillende (type) mensen zijn gewend aan verschillende manieren van communiceren. Een Amsterdammer communiceert anders dan een Fries of een Limburger. Een verkoper communiceert anders dan een timmerman. Afhankelijk de targetgroep zal je de communicatie moeten aanpassen.
Gebruik deze buyer persona's in combinatie met je marketing automation software om zo tot écht gerichte content te komen die er voor zorgt dat de juiste call to actions op het juiste moment aan deze bezoekers getoond worden.
Bij betaalde campagnes wordt zo de kwaliteit van de leads verhoogd. Dat is tenslotte het doel. Beter 10 écht gekwalificeerde leads dan 100 'geïnteresseerden' Een gekwalificeerde lead is veel eerder geneigd om ook echt een dienst of product af te nemen en betalende klant te worden. Daar gaat het tenslotte om.
De doodlopende conversie
Wat we vaak tegenkomen is de zgn. doodlopende conversie.  Hiermee bedoelen we de conversie die nergens toe leidt. Stel, de nieuwsbrief inschrijving is een conversie. Dat kan. Maar stel ook dat deze nieuwsbrief heel af en toe verstuurd wordt, en dat als er een nieuwsbrief komt, er niets in staat dat je aanspoort om ook echt klant te worden. Dan loopt dit pad dood. Het uiteindelijke doel is van de bezoeker een betalende klant te maken. De klantreis houdt niet op na de (eerste) subconversie!
De weg naar een échte conversie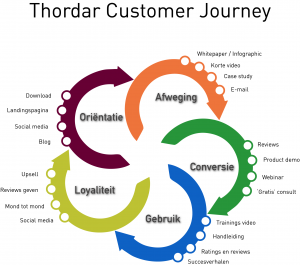 Om de juiste (sub)conversie te behalen is het wel van belang om te weten in welke fase van de customer journey de target groep van de advertentie zit. Hier wordt dan zowel de content als de (sub)conversie op aangepast.
Veel content voor je marketing automation
Wil je écht voor elke persona op elk moment van de funnel de juiste content hebben dan zul je je moeten committeren aan het maken van veel content. Hoe meer content je hebt om mee te werken hoe beter je kunt anticiperen op de keuzes die je bezoekers maken. Meer content betekent meer mogelijkheiden om automation goed toe te passen.
De 'conversie' conversie 🙂
Dit is bijvoorbeeld het moment dat sales het stokje overneemt in B2B of een echte verkoop in B2C. Het uiteindelijke doel van een marketing campagne. Alle stappen, content en call to actions in een campagne zouden hier op gericht moeten zijn. Natuurlijk is die nieuwsbriefaanmelding een conversie. Maar dient geen enkel doel als er niet verder gekeken wordt. Uiteindelijk moeten zo veel mogelijk leads zoveel mogelijk opleveren.
Automationflows
In flows worden binnen marketing automation software het pad van conversie a naar b ontworpen. De e-mails die verzonden worden, de (remarketing) advertenties die gebruikt worden. Maar ook de menselijke acties die voor kunnen komen. Flows kunnen van heel simpel (drie e-mails na een download) tot heel complex (letterlijk een web van acties) worden. De truc is om een vorm te vinden die bij je past maar vooral die bij je bezoekers / potentiële klanten past.
Multichannel
Automation goed toegepast maakt gebruik van verschillende kanalen. Social, e-mail, mobile, etc. Je buyer persona beschrijft duidelijk welke kanalen er gebruikt worden zodat de juiste content gecreëerd kan worden. In het proces zelf bepaalt het gedrag van je bezoeker uiteindelijk waar deze welke content geserveerd krijgt.
En hoe nu verder?
Wil je weten of en hoe je campagnes kunt optimaliseren met behulp van marketing automation? Je kunt me altijd bellen op 06 2509 3624 of [calendly]
Wil je een idee krijgen hoe marketing automation werkt? Vul het formulier in en we laten het je zien.
[formlift id="153837″]
* Je krijgt alleen e-mails uit deze voorbeeld campagne.